by Ken Whitaker
Halloween is coming, so make sure you've made the run to the store to stock up on sweets for trick or treat time. And, while you're grabbing a few things for giving to kids dressed like ghosts, goblins, princesses and super heroes, pick up some things that you can whip up for yourself and the family! Why not jump into the Halloween spirit with some fun in the form of sweet things to eat?
Here's three ideas to get your creative juices going starting with the main one which is a nice combination of strawberries and chocolate.
Ghost Strawberries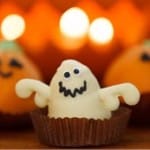 I know, sounds like I'm about to give you a recipe better suited for February and St Patrick's Day. Nope, the basic recipe is the same, but the presentation is completely different. Instead of using dark chocolate, use white chocolate! Grab some strawberries, slice the tops off just enough to make them flat, dip in white candy chocolate – prepared as noted on the package – and place in a mini candy cup flat side down!
Now draw the eyes and mouth on using tubes of dark icing found in icing section of your grocery store. Or, make a batch of chocolate strawberries using melted chocolate candy. Then you can use the chocolate for the eyes and mouth for the white ghosts and you can use the white melted chocolate on the dark chocolate ghosts.
If you really want to get creepy, a little drizzle of red icing from the same tube icing section makes for wonderful fake blood! You can also form small arms out of some of the candy to attach to your ghosts… or mummies… or whatever you decide to call them But, do those first so they have time to harden prior to dipping your strawberries.
Remember, you're having fun and getting into the Halloween spirit, pun intended, but that's no reason to forget about making a great tasting dish. I suggest that you make a blended burger for extra flavor. I suggest combining ground beef with ground Italian sausage. Or, ground turkey and black bean burgers. If you break up the beans your ground turkey will have a creepy purple tint to them – perfect for Halloween!
Easy Hot Chocolate Bites
Do you like making your own chocolate bites with all those fun Halloween themed candy molds they sell at craft shops? If so, then Halloween is your time to shine! Now's the time to add a little "trick" to your candy recipe. Add in several dashes of hot sauce to recipe for a nice twist on a traditionally sweet piece of chocolate. The level of heat depends on your description of the word "trick" when your family and friends toss a piece into their mouth.
Candy Corn Cookies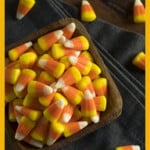 This is so simple! Just take your favorite sugar cookie recipe, or buy some cookie dough at the store, and add in a few pieces of candy corn to each cookie! Bake as you normally would, and you're done! Also works great with brownies, cup cakes and whatever else you can come up with.
Hope these ideas get your rolling towards a fun, and tasty Halloween!
Author info
Kent Whitaker – "The Deck Chef" Whitaker is the former winner of the Emeril Live / Food Network barbecue contest. He's a culinary writer and cookbook author – his newest title is Great American Grilling. He also writes about College football, the NFL and NASCAR for several media outlets. Look for him online at thedeckchef.com .