Check out EvilMadScientist.com for you Halloween pleasures and listen to this recording, an interview for Science Friday podcast show. In the recording they talk about creepy and exciting things you can make for your Halloween this year. The recording point out several things a smart teenager can accomplish and have fun with, or a smart parent. It will help foster your kids interest in science.
Their website has a lot of cool ideas for Halloween so be sure to check it out.
Make a Flying Spaghetti Monster Costume.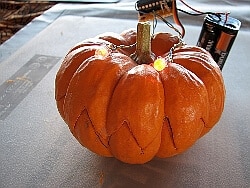 And, how about Make a Robotic Snap-O-Lantern.