It's time for some Halloween grilling and the first thing offered up at ghoul and ghostly outdoor grilling parties are servings of BAT WINGS! Wait… bats? Actually… that's probably a horrible idea! Bats don't have meaty wings and they're known to carry rabies! That's not a good combination when it comes to serving party food.
So – instead of trying to locate a meat market or grocery store that carries bat wings you may want to consider a substitute. Try this! Grab a whole bunch of chicken wings and drums and get ready for a meaty tasty treat that you can nick-name grilled Bat Wings!
About Bats
Halloween decorations are filled with generic outline bat shapes but – generally speaking – there are only two types of bats. There are megabats and microbats. That kind of narrows thing down. But if you break the types of bats in those two groups then you'll find out that there are more than 1,240 species of the flying creepy mammals.
According to historians of Batman, almost 40 actors have played the role of the "Caped Crusader" in movies, TV, radio, and animated series. It all started with Lewis G. Wilson, father of Executive Director of the James Bond series – Michael G. Wilson, who played Batman in the 1940's Columbia Pictures series. On the radio side, the thin and "geeky" choir director for Mayberry's church on the Andy Griffith Show, actor Olan Soule, voiced the superhero in animated series such as the Super Friends from the 1960s to the late 1980s. Soule was also a regular on the Petticoat Junction TV show and Disney movie regular.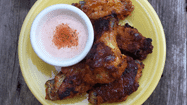 Back to Tasty Wings!
So, how popular is chicken when it comes to flats and drums? Here are some chicken wing facts from the National Chicken Council that you can be the judge.
During the 2014 Super Bowl (XLVIII) an estimated 1.25 billion chicken wings were devoured by football fans. Cooking could be grilled, smoked, baked, and of course, fried.
If you were to lay 1.25 billion wings end to end, they would stretch from CenturyLink Field in Seattle, Washington to MetLife Stadium in East Rutherford, New Jersey 30 times.
That's enough wings to put 572 wings on every seat in all 32 NFL stadiums.
– source: National Chicken Council
Bat Wing Recipe!
These are actually just good old-fashioned grilled chicken wings with a twist! Add in a few drops of black food coloring to your sauce mix and red food coloring to your dipping sauce!
20 to 30 chicken drums and flats (wings)
2 tablespoons cups dark brown sugar
1/2 cup soy sauce
1/2 cup teriyaki sauce
1 cup barbecue sauce (brown sauce, not mustard-based)
1 tablespoon hot sauce
Drops of black food coloring, as needed
Combine the sauce ingredients in a bowl then add several drops of black food coloring to darken as desired. More drops equal blacker sauce. Next, add the wings and turn to coat evenly. Cover and chill for several hours. Grill as you normally would and serve hot when done and juices run clear.
Serve with ranch dressing or blue cheese dressing with several drops of red food coloring or lots of paprika powder stirred in.
Author Bio: Kent Whitaker, also known as "The Deck Chef," is an award-winning culinary writer and cookbook author. He's also penned Young Reader, NASCAR and History titles. The former winner of the Emeril Live Food Network Barbecue Contest also covers football, motorsports, and bass fishing. Kent currently lives in East Tennessee with his wife, son, and a couple of dogs that love when he fires up the smoker or grill. You can reach out to Kent at www.thedeckchef.com, Facebook, Instagram, and Twitter.