This Halloween, you can go retro and dress up as the Phantom, a comic strip crime-fighting superhero popular during the 1950's to 1970's era when everybody still read newspapers. The Phantom, unlike most of today's superheroes, does not have any actual unnatural powers. However, he is feared and called as the Ghost Who Walks,an immortal being, because he seems to have existed for generations. Actually, he is a creation of legacy. He is a descendant of 20 previous generations of crime-fighters who have all all adopted the same Phantom persona. When a new Phantom takes over the legacy from a predecessor, he swears an oath on a skull to fight evil. Called the Oath of the Skull, it says, "I swear to devote my life to the destruction of piracy, greed, cruelty, and injustice, in all their forms, and my sons and their sons shall follow me".
As to the costume itself, the Phantom wears a black mask and a purple skintight bodysuit and he carries sidearms in a special utility belt with a buckle marked with a skull insignia.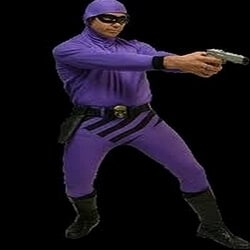 On his right hand, he wears a Skull Ring, said to given to the first Phantom by Paracelsus himself, which was made from the nails used in Christ's crucifixion. The Phantom holds his base in the Skull Cave deep in the jungles of Bengalla, a fictional country in Africa. He has a horse named Hero, a falcon named Fraka and a trained mountain wolf he named Devil.