Aside from adding them in recipes and carving, the use of pumpkins are fairly limited – or so it seems.
This particular fruit is incredibly versatile – but only if you're creative enough to see what can be done with it! Following are some weird things to do with pumpkins that you'll find infinitely entertaining!
Pumpkin Face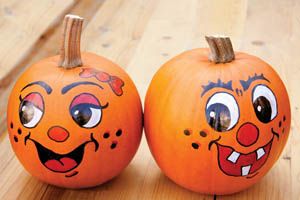 Pumpkins are usually carved to create a face – but why go through all that trouble when you can simply paint a face on the surface? The beauty of this is you can get as creative as you want, putting on a crazy, scary, funny, female, or a clown face without the risk of drawing blood. You can also tack on different materials on the pumpkin such as ribbons and eye patches, creating 3-dimensional look. Try getting several pumpkins in different shapes and sizes and turning it into a table centerpiece for Halloween, Christmas, or any other holiday, really!
Crayon Melting Pumpkin
Do you have a stack of unused and very small crayons? Try melting them with a blow dryer and allowing them to drip on the pumpkin, creating a waterfall of colors! You can go crazy with the color combinations so that you can achieve a wonderfully 'alive' result. Keep in mind though that melting crayons means that you'll be dealing with hot material so its best to wear protective gloves, especially if you're inviting the kids to play!
 Candy Container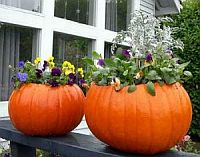 Try popping open a pumpkin at the top and start emptying the body. Instead of carving a face into it however, you can now use the space as a container of practically anything! Candies, cookies, toys – whatever you want for the occasion. If you paint the outside of the pumpkin as well, this makes for a beautiful table centerpiece with a purpose. Some homeowners like to go the extra mile by turning their pumpkins into pots for plants – which is great because as the pumpkin rots, the plant gets more vitamins and minerals for growing!
 Drilled Pumpkin
If you have a drill, why not use this to create neat shapes and designs on the pumpkin? Although it requires as much care as carving, drilling is usually faster but offers the same benefits such as letting you put a candle to illuminate the husk from the inside. The beauty of drilling is that there are more shape and design options to choose from, allowing you to be as creative as possible!
 Spelling  with Pumpkins!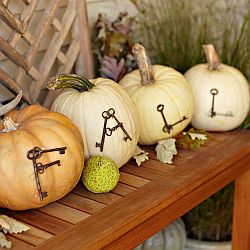 Got more than one pumpkin? Try forming a letter on each pumpkin using a single or multiple mediums like sequins, yarns, push pins, and various other materials that would stick perfectly on the fruit. You are free to spell practically anything you want and place them on the center table or perhaps the front porch. Hang them or line them up – it doesn't matter, as long as the message is clear!
 Play with Them
For kids, pumpkins can be a wonderful source of entertainment. They can be used for creating paintings by just slathering paint on the pumpkin and rolling it on canvass.
You can also use the fruit for bowling or maybe do a science experiment involving the 'vomiting pumpkins'!
Of course, these are just some weird things to do with pumpkins. With a little creativity on your part, you'll find that pumpkins can offer a wide array of benefits, regardless of the occasion!