For those who are as old as me, "It's the Great Pumpkin, Charlie Brown" was the CBS pre-Halloween "Peanuts" animated TV special that first aired in 1966 and continues to be re-run by stations even until today. Acclaimed by critics and enjoyed by everyone who've seen the show, it tells the story a young boy's unshakable faith, and the humiliations he had to endure and suffer on account of that faith.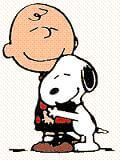 Linus van Pelt believes in the Great Pumpkin, an entity as powerful and as real as the Easter Bunny and Santa Claus. While the Easter Bunny comes every Easter and Santa Claus every Christmas, the Great Pumpkin rises up out of his pumpkin patch every Halloween and flies to deliver toys and candies to all the good and "sincere" children everywhere. Unfortunately, no one in the Peanuts crew shares in his belief, even Charlie Brown, the most good-natured and most gullible of the lot and who himself thinks there is a real Kite-Eating Tree out there. In the show, Linus writes a letter telling the Great Pumpkin that "more people believe in Santa Claus than in you, but let's face it; Santa Claus has had more publicity. But being number two, perhaps you try harder."
Charles M. Schulz introduced the idea of the Great Pumpkin in his syndicated Peanuts comic strip on October 26, 1956. Since then, it became a regular annual Halloween feature theme in the comic strip series until the day of his retirement. The last Peanuts comic strip came out on January 3, 2000. What the Great Pumpkin looks like, to this day nobody knows. Schulz did no artwork to depict the object of Linus' obsession. A Peanuts parody episode in the stop-motion TV show, Robot Chicken, represented the Great Pumpkin as a being with a jack-o-lantern-like head and a body of menacing vines.
In the comic strip, every Halloween season, Linus would go door-to-door to try and convince anyone who'd care to listen to believe in the Great Pumpkin. And of course, no one did. His big sister Lucy mocks him, his kid brother Rerun is ashamed of him, Snoopy laughs at him, all his friends make fun of him. Linus, who's known in his school for being intelligent and resourceful, failed to get elected as class president because in his election speech, he preached about the Great Pumpkin. "There are three things I've learned never to discuss with people: religion, politics, and the Great Pumpkin," a dejected Linus says in the Peanuts TV special.