There is the Damariscotta Pumpkinfest in Maine. Here they take big pumpkins and have a regatta.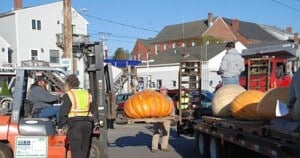 The pumpkins are
actually carved out and made into small boats to compete in a motorized race! These people also shoot ten pound
pumpkins from cannons onto automobiles. And of course what would a pumpkin festival be without a pumpkin hurl and pumpkin catapult. There is also a pumpkin derby and pumpkinfest parade and pumpkin artists too. But the most unusual part of the event in my opinion is underwater pumpkin carving in wetsuits on October 6th. All this takes place this year Sept. 29th through October 8th in Lincoln County.