As I was tinkering through our DVD collection of old movies last night, I came across our copy of the 2007 Ghost Rider film starring Nicholas Cage. It was an entertaining movie although it was panned by the critics.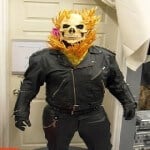 It was based on the Marvel Comics' superhero character Ghost Rider. By day, according to the story line, he is a stunt motorcyclist named Johnny Blaze, who, in order to save the life of someone dear to him, gave up his soul in a pact he made with the arch-demon Mephisto. At night, and whenever he gets around evil, his flesh is consumed by hellfire. His head becomes a flaming skull and his body becomes a leather-clad flaming skeleton. He also gets to ride a fiery motorcycle and to wield hellfire from his skeletal hands.
In any event, wouldn't it be cool to dress up as Ghost Rider this Halloween? I've googled through some Comic-Con scenes and found some very interesting takes on the Ghost Rider costume. Instead of trick-or-treating as a typical witch or scarecrow, others now prefer to dress up for Halloween as their favorite superhero characters.