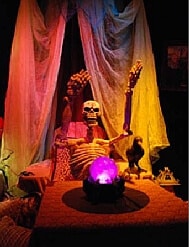 Are you into skeletons? I mean really into skeletons? Well, if you are you should visit Boney Island in Sherman Oaks, California.
Rick Polizzi used to be a animator for Disney and the Simpsons. When his daughters were younger, he wanted them to have a Halloween fun experience. So in 1997 Boney Island was born. they have about 25000 visitors now a year in the two week period prior to Halloween. Boney Island is free to get into and amazingly it features skeletons – doing all sorts of stuff – nothing scary. Rick doesn't like scary. He does like animation of course and the skeletons are animated. It is set up each year with about three to four people.
Here is an interview with Rick explaining what Boney Island is and where it came from and how you can find it of course.