(Houston) – Halloween may celebrate the un-dead, like zombies and ghosts. But sales related to the popular holiday are very much alive.  In 2013, more then 158 million people celebrated Halloween, with the average reveler spending more then $75 on their festivities.  Total Halloween spending in the United States alone topped out just under 7 billion, with considerable growth in other countries,  such as the United Kingdom, which saw a 12% increase in spending over the previous year. The party mood doesn't stop at Halloween either; it is gaining growth year round, with costumed obstacle runs and themed parties more popular then ever.
The number one global show for the Halloween, Costume and Party Industry, is also very much alive. Thousands of attendees from more then 63 countries worldwide will descend on the George R. Brown convention center, for the Halloween & Party Expo, which will be in Houston for the sixth year in 2014 before heading to New Orleans in 2015. Eighty-five percent of the 600,000 square foot show floor is currently reserved by hundreds of eager exhibitors. "If your're in the party business, or if you're in the Halloween business, you must attend this show." says exhibitor Marie LaCentra with Forum Novelties/Creative Products.
Manufacturers of Halloween products in particular have an extra incentive to attend the 2014 show: HauNTcon, a Haunted Attractions trade show and conference created by Haunters, for Haunters, is co-locating within the
George R. Brown Convention Center during the same dates as the Expo. "It's not Halloween without a little
haunting; we think that's a vital segment to support, " said Jonathan Erwin of the Halloween & Party Expo.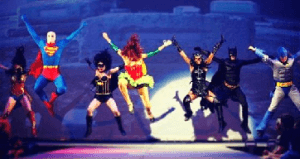 "The H&P Expo is the international event for Halloween,Costume and Party vendors,?" explained Leonard Pickel, HAuNTcon Coordinator and Haunt industry expert. "It was a natural move to co-locate our show to the same city so we could offer our attendees the opportunity to see new products and services featured only at this
exhibition." Each show will operate separately with its own requirements, but attendees and exhibitors are encouraged to attend both for a richer experience.
But the Halloween & Party Expo and HAuNTcon are well-known for far more than simply their show floors. Both shows offer a variety of events and activities designed to educate and entertain attendees,including more than 20 hours of educational seminars at the Expo and more than 40 hours at HAuNTcon.
The Expo's famous Halloween Costume Style Show also returns in 2014 with 100 costumes presented in an extravagant runway production at the close of the first evening. Attendance is free to all Expo attendees and includes free beer and wine throughout the show. HAuNTcon takes over afterwards, with their annual Costume Ball. Attendees won't want to miss this lavish event, with barbecue buffet, complimentary beer, prizes photos and all-night entertainment, all while dressed to the nines in costumed regalia or evening attire. Visit
Halloween Party Expoor HAuNTcon.comfor ticket information, schedules and more, such as details on the Pet Costume Shows presented by the Expo and Haunt Tours presented by HAuNTcon.
As always, registration for the Halloween & Party Expo is free, but documentation of industry involvement is required. Don't miss THE show for the industry, January 25-28, 2014 in Houston, Texas. Visit Halloween Party Expo to view the floor plan, create a customized expo schedule, request appointments, book hotels/travel and register to attend.
Here is another article about this event: Houston Halloween Convention turns George R. Brown into giant haunted house
Karen's Note:  Better late then never, I simply did not know about this event. I do now and you can expect to hear more about it in the future